200 years old this month!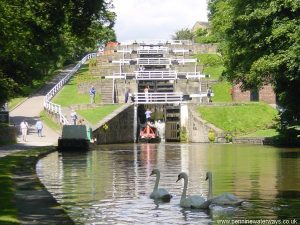 The Leeds Liverpool canal is 200 years old this month! On Saturday 19th October 1816, two barges set out from Leeds for Liverpool. By Monday night they had reached Blackburn with overnight stops at Skipton and Burnley. The journey was accompanied by tremendous receptions along its route. Bells rang in Blackburn, there was a celebratory lunch with the committee of the Lancaster Canal at Johnson's lock, where the two canals meet, and Lord Balcarres saluted the procession with cannon fire as it passed Haigh Hall. Liverpool was finally reached at five o'clock on Wednesday afternoon – four days later.
It must have been such an historic occasion particularly as the first cutting had taken place 46 years earlier!
For those of you who know the route of the Lancashire Way, you will appreciate that the walk follows the Canal in a number of places both for its history and scenery. Indeed, the Canal is probably the very first major route to travel through Lancashire so could be deemed to be the first and original Lancashire Way. Like ours it took a considerable time to complete and its route changed many times.
If you want to find more about the Leeds Liverpool Canal I thoroughly recommend A History and Guide by Mike Clarke. It is fascinating read not only of its building but of its life and economy to the present day.