Ellis Bland runs the Northern Loop in a record 21 hours 15 minutes
On the 6th of March 2021, I received a notification on Instagram from "ells_fells_" about his successful completion of the North Loop of the Lancashire Way. From time to time I do receive communication from people about how they have faired on the walk or for advice about how to walk it but what was truely astounding about this was that Ellis had run the whole 110 miles and 10,000 feet of ascent in one run of just over 21 hours. That is an amazing achievement on any scale and one that deserves its very own post on the home of the Lancashire Way – www.lanacshireway.com.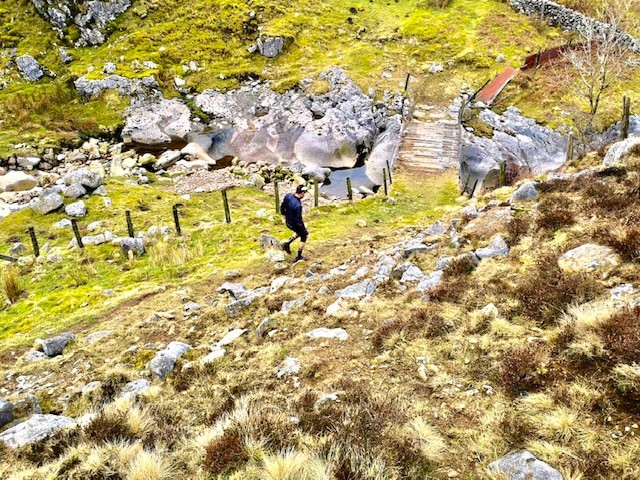 His initial post read
Whether it's 10 or 110 miles, all runners will have experienced the highs and lows of pushing their body and mind. Despite the beauty of this first photo (see left running on Morecambe Bay),it was taken during a definite low, a kilometre trudge across Morecambe Bay shoreline at 92 miles.
The change in scenery though was what attracted me most to the Northern Loop of the Lancashire Way. With 3,000ft of climb it facilitated my love of the fells but also boasted long sections of trail and tarmac which added a very different challenge. That challenge being there was no excuse to walk!
There was no real goal, no time in mind to complete it in, just a personal quest to explore my local area in its entirety. I can now safely say, North Lancashire, you're absolutely BLOODY GORGIOUS.
Whilst Ellis did run the Northern Loop, I think anyone attempting the route whether running or walking, will feel similar emotions, and many others, in their quest to complete this or any of the four Loops of the Lancashire Way. Is that not why we set ourselves these challenges?
I am also very grateful to Ellis for providing me with an account of his run and experiences whilst completing the Northern Loop. This is can be found below. It is a brilliant summary and full of good humour that could only come from a Lancastrian after completing such a gruelling feat.
In addition, in recognition of Ellis's achievement, I am setting up a "Register" of people who have complete any Loop's of the Lancashire Way with their time, however short, however long. And Ellis will always be the first name on that register. So please do start planning your walk or run and let me know when you have completed it so that I can add you to the list – just e mail lancashireway@aol.com. I hope Ellis's account truly inspires you to start planning your walk or run along the Lancashire Way. Challenge yourself! And its the perfect way to see the best of Lanacshire.
Well done again Ellis – a great achievement. Be proud – you deserve to be.
Lancashire Way 
I gave up drinking a couple of years ago. I wouldn't say I necessarily had a problem with liquor but just like with my miles, I struggled with moderation. Since kicking the bucket the benefits for my running have been huge, I train more effectively without a foggy head and I can see my goals far clearer.  Naturally there are a lot of crossovers with Ultra Running and alcohol consumption and thus the withdrawal was easy; the weaving waddle after too many miles, the drooling on your support runners shoulder and of course – exclaiming you love everyone at the end of the night. Despite resisting the temptation to go back to drinking, this run brought me the closest I've been to picking up the bottle again.  Not because it was in anyway harder than previous excursions but just down to the sheer fact it passes an unholy number of lovely Lancashire pubs. Fortunately, due to COVID 19 restrictions the taverns were closed! As a result here is my account on becoming the first person to tackle (in one go) the most beautiful pub crawl in Britain – the 110 mile Lancashire Way Northern Loop. 
Like with all the challenges I do, I meticulously recce the route beforehand. Any spare moment I have I study maps and all training is done on the course. I basically immerse myself in the challenge so much that I'm a little sick of it before I even toe the start line (I imagine my girlfriend feels the same). However, the  Northern Loop was different as I was only unfamiliar with about 15 miles. Down to this fact, from the moment my coach planted the seed to do the Northern Loop and me actually jogging down to Lancaster Castle to start was only about 2 weeks. Needless to say, this one I was excited to have a crack at. 
I set off from Lancaster Castle at 12:20am (technical difficulties meant I missed the romance of a midnight start). As starting venues go this was an atmospheric one and I was eager to return. My schedule to complete the loop was 21hrs15 minutes, though really I just wanted to get round in one piece. In daylight the route down to Glasson Dock is one of great awe and beauty along the banks of the river Lune. To your left you have rolling fields and to the right the rivers sparkling waters with waterfowl abundant. Alas, it was pitch black. However, the chirps of Oyster Catchers and a passing Barn Owl made for an enjoyable first section and we were quickly onto the canal into Galgate. The first 24 miles were to be accompanied by Liam Mills, a military man by training and a meticulous pacer. I had told him we would be sitting at 08:30 minute miles and trust me, he stuck me to that.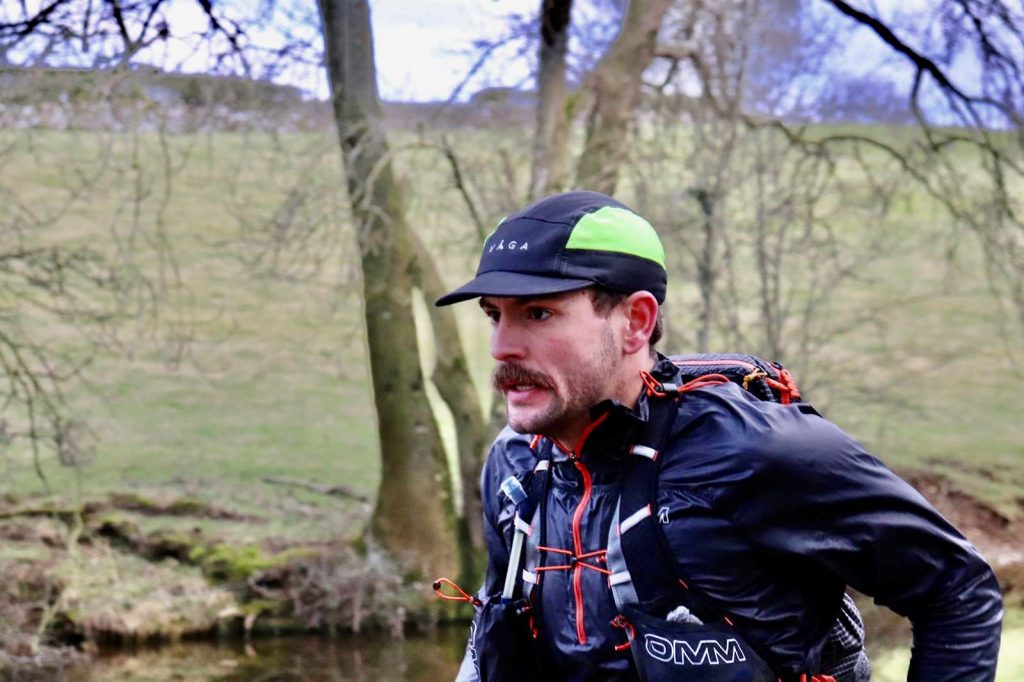 We were quickly onto the steeps of Nicky Nook, 214m. A tourist trap on any fine weather day however deserted for our 02:30am summit. A slight nip in the air at the summit made me feel especially grateful for my OMM Supersonic Smock (I don't include this for product placement purposes, just that I think all runners/ walkers should in fact own one), a truly wonderful piece of kit. We dropped off the back and through the picturesque Holme Wood. Dancing along the boardwalks I chuckled to myself thinking "I won't be able to do this in 15 hours", I was to be right. It wasn't long until we'd traversed along the foot of Harrisend Fell and down on the Wyre Way heading towards Dolphinholme. So far so good, although I was acutely aware I was having stomach problems. One of the problems with a midnight start is it's tempting to overeat in the day but then not have enough sleep beforehand and subsequent time to digest. As a result of my indulgent feasting I was making some rather strange noises!  From experience though I knew the pains (and noises) would eventually subside, though I did feel sorry for Liam. He's military I just kept telling myself, he's used to it. 
A quiet patter through the sleepy village of Dolphinholme and after a brilliant section of running through Mark Holme Wood, we were then crossing the bridge at the foot of Abbeystead Reservoir. To those unacquainted with Abbeystead it's a pretty village in the Trough of Bowland with a gruesome history. A gas explosion at its waterworks in 1984 killed 16 people and a result, running round its simply stunning reservoir always feels quite somber. Arriving at Stoops Bridge Abbeystead after 24 miles and the first leg was done. A sock change, sandwich and fresh pacer later and we were heading off into my beloved Bowland Fells. A special thanks to Liam who was superb throughout and in true style then ran home to bed!
Despite the delayed start time I was around 20 minutes up on my initial schedule and fearing I may overcook it, the climb up to Cabin Flats was as leisurely as I've ever taken it. With cool air came a relatively firm climb up and across to Ward's Stone East, 562m, with only a handful of squelchy bogs to report. A roaring success for Bowland. Now, I could talk about the Bowland Fells forever (and probably will) but for the sake of this write up I will keep it as brief as possible. I'll simply say just visit them, see them for yourself. Yes they're smaller than the Howgills, Yorkshire's big ones and of course the Lakes, but size is not where their majesty lies. Their appeal is in their solitude, their undiscovered aura and finally their views. From Ward's Stone you can see the 3 ranges I just mentioned and on a clear day you can have a glance west at the Isle of Man's peaks (best done just before sunset). 
From the trigger at Wolfhole Crag came a rollercoaster descent down the fence line to the Salter Fell Road, joining at Sandy Gutter. Despite one waste high dip in a moss bog I knew the soggiest running of the day was over and as the sun rose on my back I felt at ease. Along the Salter Fell road my pacer/ coach/ friend Rowan Wood was darting ahead and taking lots of pictures. Despite being 12 years my senior he moves about with a lot more agility than I possess. I reminded myself I was only 37 miles in and refrained from joining in the sprints.
The section from Wray to Loyn Bridge, Gressingham felt like a saunter as me and Rowan passed a couple of ale houses and chewed the fat. We chatted about some of the local races in the area, Wray Scarecrows was where I raced as a child and will always have a place in my heart. Despite taking the foot off the gas we came into the end of leg 2 (Loyn Bridge) 35 minutes up, arriving at 07:45am. Unsurprisingly my next pacer was already there. James Simon is Mr Dependable and in all the epics we've done together he has never once been late. A 20 minute break and lots of food later and the 2 of us were off up the Lune with our shoulders facing Lancashires highest fell, Gragareth, 627m. Before even contemplating Gragareth there was lots of meandering to be done through forest, village and farmland.  Despite the amount of tarmac on this section, the villages are most idyllic, Melling, Wrayton and past the Lunesdale Arms in Tunstall.  The going was good and conversation buoyant.  
I remember the 50 miles comes at a comical moment on the Northern Loop as it coincides with the passing through of a farmers open ended barn.  This bought a rye smile to my face as I think of the fuss some farmers would cause, whereas this old boy was all to happy to watch us through. Now just don't trip on the cattlegrid I thought to myself. After the gaiety of farmland running suddenly came the long tarmac slog up to Leck Fell House and the foot of Gragareth. This road is at no point particularly steep but I can remember it pulling for a long time.  If the road wasn't steep, the climb up Gragareth certainly was. However, relieved to be back on soft ground and an excuse to walk, we powered on up. Once hitting the summit we had spectacular views east towards the backside of Whernside and beyond to the Moors. Ahead was Great Coum, 687m, and despite a little dusting in our faces of snow our spirits were high as we summited. Great Coum was as northerly as I was to travel on the Northern Loop. As we arced round and took in Crag Hill, 839m, we were met by the sight of the steeps of the Barbondale Fells and in the distance the Scafell Range. James made reference to how impressive they looked however I was too busy sulking looking out towards Warton Crag, thinking to myself, I've got to cross that in 40 miles. "Chin up" James jeered and so started the descent down to Leck. Despite the slow going in Ease Gill it really was a sight to behold. Limestone arches on every corner and not even a rather exuberant Chocolate Lab nearly taking me off my feet could detract from some of the finest scenery I've ever had the pleasure of running through. Leck Beck is another tourist trap however we had the whole valley to ourselves.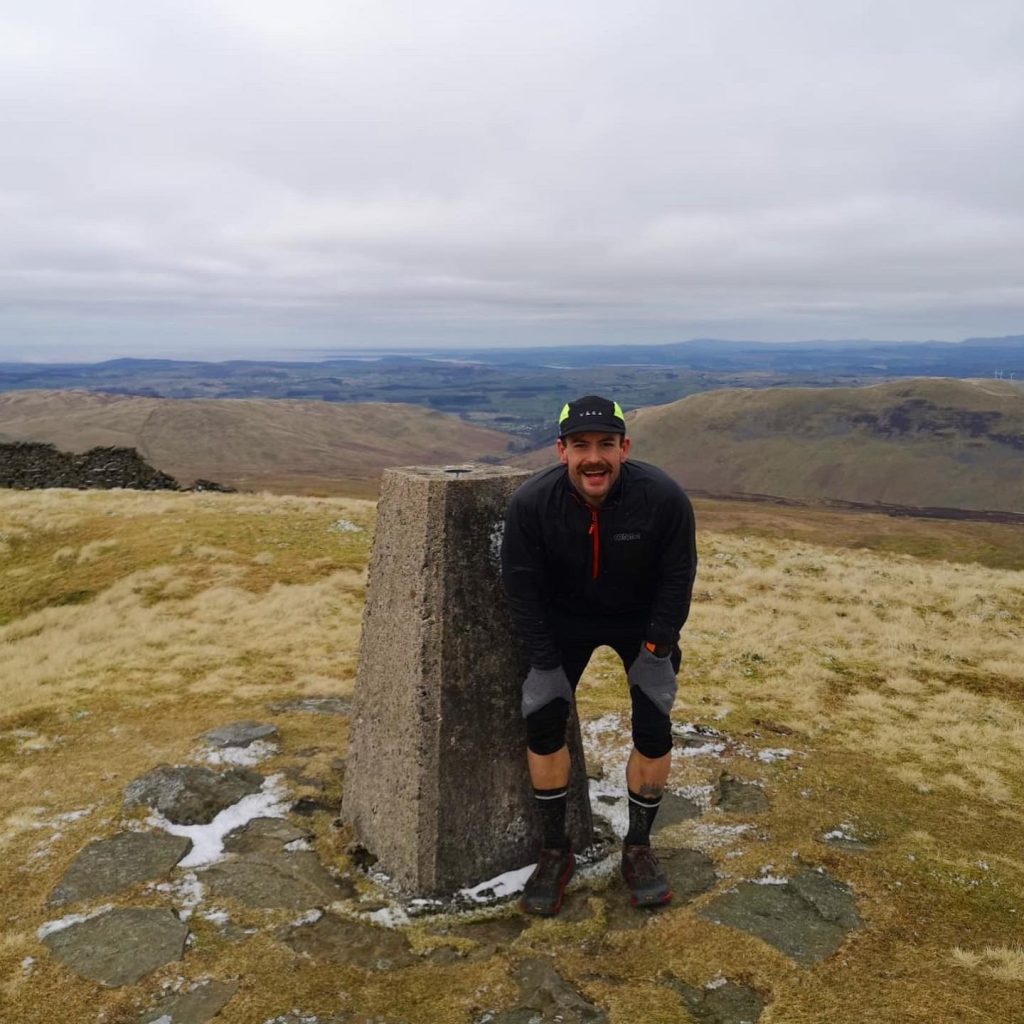 From Cowan Bridge to Kirby Lonsdale and over Devils Bridge went without a hitch and we were back on the Lune, this time heading back to Loyn Bridge, Gressingham.  James won't mind me saying he was noticeably struggling on the run into Gressingham. I wasn't at all surprised, he'd been lugging a heavy pack for me, running ahead to get food prepared and wasting lots of energy telling me pointless yet amusing stories.  Despite his struggles and my offer to take the pack, he refused every time. James was to leave me at Loyn Bridge but not before he broke his own 50km personal best in a time of 6hrs05 minutes.  This brought me enormous happiness as all his efforts had paid off. He's a sterling runner and made the 6hrs15 minutes of running a total joy. Back at James's car and the feeding could commence. I was now 78 miles in and knowing I'd be going the next 10 miles alone and not wanting to carry any excess luggage – I made sure to take on a good 1000 calories.  
After a 20 minute break I trundled up through Gressingham, down into Aughton, over into Over Kellet (passing the Eagles Head), through Capernwray, Borwick,  along and under the M6 and finally up to St John's Church in Yealand Conyers. I speak lackadaisically about this 10 mile solo crossing as in truth it was the hardest miles of the day. It was cruel, unexpectedly difficult and with lots of frequent turns, above all it was frustrating. I'm sure it was gorgeous but in truth I just wanted to get to Yealand and start to smell the sea air. 
After picking up James Gray at the church my mood was immediately lifted and despite a silly dog leg in Yealand (I can only imagine it's included to facilitate passing The New Inn Yealand) I was happy to be back running with company. Albeit the pace now sitting at 11 minute miles. I had done this section to Warton during a recce and knew I was in for a treat. The running in this area of Lancashire is spectacular and with the sun falling as we passed through Leighton Moss I had my first "you're going to do this" moment of the day. To cap my arrival into Silverdale off we were greeted by a magnificent Red Stag only 50 metres from the path. Down to the shoreline of Morecambe Bay off Cove Road and so began the most sapping section of the day. A 1 kilometre trudge across quicksand to the cobbled beach at Silverdale. I've done events such as Tough Guy in the past and being a Bowland boy I don't mind a bit of sludge, but after 92 miles I didn't really need this. I could hear James giggling at my silly shuffling and I would've stuffed his head in the sand, if only I could catch him. Greeted by my family friends Alan and Linda Alker outside the Silverdale Hotel I felt strong again and not wanting to stop (through fear of not starting) I pushed on down to Jenny Browns Point, across Warton Salt Marsh and up Crag Bank to Warton Crag, 163m. 
At the summit of Warton Crag i'd been on the go for 18hrs30 and it was here I thought James was leaving me. I felt somewhat emotional when he said he'd join me to VVV Gym in Hest Bank (where I was to meet my final support runner). The thought of tackling Carnforth to the gym  along the shoreline alone had been filling me with dread all afternoon.  It was now dark and due to my silly weight shedding tactics at Gressingham I'd accidentally thrown out my head torch cable and as a result unable to charge a spare battery.  Darkness quickly engulfed me, so just using the light from James headtorch he got me off Warton Crag safely, past umpteen ale houses in Warton and to the shore in Carnforth. A momentary celebration as I passed through the 100 mile mark in 19hrs15 minutes. Celebrations were quickly thwarted by more painstaking miles along the rocky beach. Again, in the light this a lovely bit of coastline, but with no real path, deep salt pools and with some terrible blisters on my toes, it's safe to say the 3.5 miles to Hest Bank were quite frankly…shite. As we passed over Red Bank James reached the climax of his 15 minute long joke about a stray, shaggy dog. The joke was about as underwhelming as the prospect of running down the promenade, however it was clever tactics by him as it passed the time and stopped me verbally whinging.  
Tarmac, Double Decker choccy bar, new pacer in the form of Joe Moulton and with the bright lights of Morecambe ahead, we were onto the final leg. "Just 7 miles to go" I said to myself, "you're actually going to do this." Now, I've run Morecambe Prom many times, but never at 10 minute mile pace and never with 103 miles behind me. It seemed to go on for a bloody long time. My eyes were fixed on the lights of the old lifeboat station yet it didn't seem to be getting any closer. Unexpectedly, word had obviously gotten out about what I was doing and I felt humbled by being spurred on by strangers. Yet an overriding feeling of embarrassment as I knew I was moving slowly. I hope they weren't expecting Usain Bolt I joked to Joe. Past the lifeboat station and my gaze now locked on the Midland Hotel (my turning point back to Lancaster) but not before passing my grandfathers old watering hole, The Palatine. As a boy he would tell me stories of how he'd staggered out of there onto the prom. Anybody looking at me at this point will have seen something similar no doubt. 
As we reached the Midland we got ourselves onto the cycle track, 3.2 miles to go! Joe was doing a super job keeping my spirits up, setting me little markers as we trundled along. Skills like these cannot be taught to a pacer, they either have the compassion to know what the runner needs or they don't. He was doing a cracking job saying things like – "just get to Westgate bridge, then Asda and then you're pretty much done". Pretty much done "my arse" I shouted, for I knew the Northern Loop had one last trick up it's sleeve. That trick being the up and over Carlisle Bridge to cross the Lune. 109.5 miles in and I said to Joe "I'm gonna run everyone of the these steps".  He told me I had nothing to prove, yet I ran every one of them all the same. Stubbornness is a family trait. 
With 0.3 miles to go, only now did I truly believe I had this one done.  We upped the pace along the Quay and I gave the climb up to the Priory everything I had, still determined to run every step. I don't know what my heart rate was as I "sprinted" up to the portcullis at Lancaster Castle, but I could hear it ringing in my ears. I banged on the iron gates and slumped to the floor with tear filled eyes. 110 miles in 21hrs15:40, The Lancashire Way Northern Loop, I'd done it. 
As I sit here 3 days on writing this I now know why those tears were present at the end. Over the course of this last year of restrictions, I've fallen back in love with my birth county, with its people and with its funny culture. This loop was never further than 30 miles from my own front door and yet somehow incapsulated everything I love about long distance running. The places you go, the people you meet and the cultures you encounter may seem more exciting the further afield you travel, yet the familiarity and beauty of your own local area should never be taken for granted. This run made me proud to be from the red rose county and my god did I see it in full bloom during this day.