There are many hills and one mountain to climb on all 396 miles of the Lancashire Way.
Here is a list of all the Peaks in Lancashire above 500m. All seven of them are visited on the Lancashire Way. Click on the Link for full details.
The above table may well be disputed by some so please read on for an explanation of how I came to the above.
Firstly those who do not recognise the current boundaries of the county of Lancashire will cite that Coniston Old Man at 803m is the highest point in Lancashire.
Secondly, there will be others who say that Gragareth is not the highest point in Lancashire. They do have a point! About two miles north from Gagareth, still on Stage 35 of the Lancashire Way, whilst walking to the county boundary, you will pass over Green Hill. You will hardly notice it. It is 628m high i.e. one meter higher than Gragareth. However, it is hardly a summit and I have been told that the top of this very unassuming hill is just over the wall in Yorkshire, so really it cannot count. However, it does appear that the highest point in Lancashire is on the top of Green Hill rather than the trig point on Leck Fell/Gragareth.
Thirdly there is a hill called Grey Crag, which is just beyond Ward's Stone on Stage 33 of the Lancashire Way. It is one of the Bowland 1500 ( the Bowland Harrier's fell race). It is around 530m high but again it is indistinct and merely a hummock on the side of Ward's Stone so does not make it into my list.
Finally the Trig point, stone shelter and Paddy's pole on Fair Snape Fell have a height of 510m. Hence I have placed this below Lad Low on the above list. However, about 250m before this on the Lancashire Way you will have climbed to around 520m but again it is a non descript peaty mound so again I have discounted this.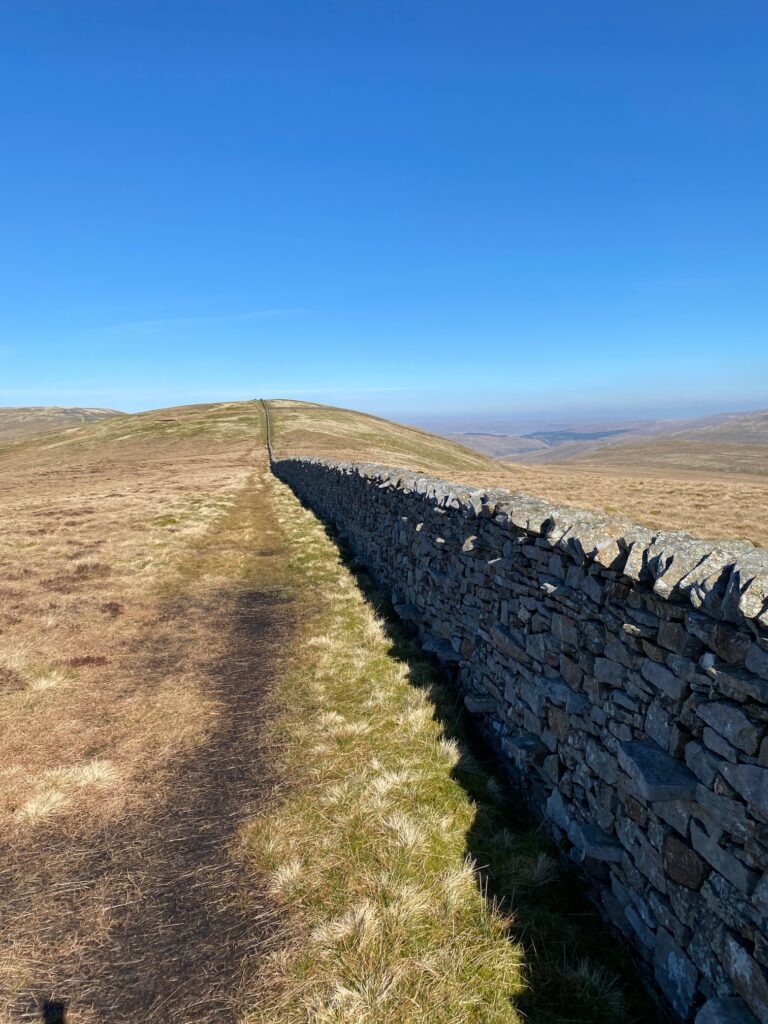 Green Hill, the highest point in Lancashire?!
Below is a list of all the main peaks or summits that you will climb on the route.