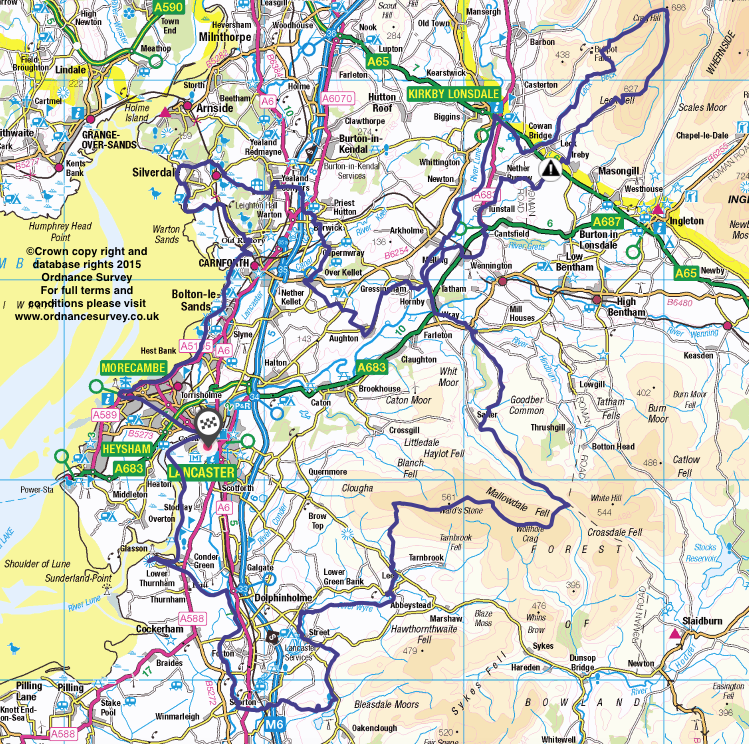 THE NORTHERN LOOP
The Northern Loop is the third part of the Lancashire Way. It is the longest of the four loops at 109 miles and ascends just over 10,000 feet, which is more than the Southern Loop but less than the Central and Eastern Loops. However, it includes the two highest peaks on the Way – Gragareth/Green Hill at 2,053ft and Ward Stone at 1,841ft, which is just a few feet higher than Pendle Hill, the next highest peak. Hence it is very much the equal of its brother, the Central Loop, to the south. It is estimated that it will take on average just over 44 hours walking so can be completed in between 5-7 days and thus one complete week.
Unlike the first two loops, it begins and ends in Lancaster, which again helps with logistics, being easy to reach with good rail and road links. There are fourteen Stages in total. My aim, which was largely achieved on the other two loops, was to subdivide into as many short stages as possible so that these could be pieced together in many combinations to produce a route that suited your pace. Unfortunately this has not been possible and there are two long stages, which because of the topography are almost impossible to divide. The first is a 19 mile tramp from Abbeystead over to Hornby in the Lune valley via the northern Bowland Fells. The second is a magnificent circular walk taking in Gragareth and the very most north easterly tip of Lancashire. Below are some practical tips on how you can manage these longer stages if you feel that you cannot achieve in one go.
The first two stages makes their way south from Lancaster initially via the Lancashire Coastal Way to Glasson and then by following the Lancaster Canal further before heading inland to meet up with the Bowland Fells again at Scorton. The walk then heads north crossing the northern Bowland Fells to Hornby in the Lune valley. At this point we make a detour further north to ensure that we do not miss the only peak in Lancashire that is technically a mountain – Gragareth and its near neighbour Green Hill, although the summit of the latter is just over the boundary wall in Yorkshire!
From here we return south via the other bank of the Lune to Over Kellett. A wander along the final stretch of the Lancaster canal and then we head west through Limestone country across to the coast at Silverdale. The return to Lancaster uses the Lancashire Coastal Way, with some superb views of Morecambe bay along its length.
This section of the Lancashire Way is generally quite rural like the Central Loop and probably matches the Central Loop in terms of having some of the best scenery that the county has to offer. Whilst there are hills and a mountain, beautiful villages and magnificent rivers, its defining feature is the coastline. We follow this for around 12 miles and Morecambe Bay never seems that far away, with the sea often in the distance. There is some history, especially in Lancaster, but it is dominated by the beauty and, in some places the bleakness of the landscape.
CONSTRAINTS IN DEVELOPING THE NORTHERN LOOP
In terms of developing this part of the walk it was undoubtedly the most difficult of the four loops. The detour to Gragarth was particularly difficult as Lancashire becomes a very narrow strip centred on the Lune valley with its many tributaries and limited crossings of the various rivers. To give variety we walk up the eastern bank and then return via the western bank.
On the eastern side of the Lune valley there are only two crossings of the River Wenning within Lancashire – at Hornby and at Wennington. I eventually decided upon the crossing at Hornby as this allowed a stay overnight in Hornby and it also allows the route to visit Melling, which is a village I particularly like. The alternative is to go from Wray to Wennington over the pleasant rolling hills to the east of B6480 and then take the quiet lane to Wrayton. Wennington also has a train station, which allows transport into Lancaster (30 minutes), which would give several overnight accommodation options. However, the decision has been made and Hornby it is.
The next tributary of the Lune further north is the River Greta, whose origin is north of Ingleton and two valleys either side of Whernside of Yorkshire Three Peaks fame. This has only one crossing so there are no alternatives but to you use the road bridge on the A683, known as Greta Bridge. Actually the OS map does show a second alternative – there is a Bridleway that crosses the Greta near Bull Bank east of Wrayton (GR 619 721). However, even in summer and after a dry spell this is almost impossible to cross by foot – it is stony, slippy and reasonably deep. I am not sure if you could even cross by horse!
Having crossed the Greta by the road bridge there is then no option but to use the road for a short period. There are two alternatives here. Head east to Cantsfield and then take the concessionary route through to a road at Laithbutts and Collingholme. However, I decided against this as my experience of the farm at Cantsfield was tarred by several inches of cow slop. So we head to Tunstall, with its castle and which also has a good pub (The Lunesdale Arms) and then around to the same location of Collingholme. It also allows us to investigate some Bronte history – See Stage 34!!
We then have a couple of decisions of principle – to restrict the walk to being solely in Lancashire or to take the odd diversion into Cumbria and Yorkshire. Well the walk won and on the return down from Gragareth I do stray into Cumbria but certainly not Yorkshire. The walk is better for this diversion. It would have been possible to return via the open access land on Ireby Fell back to Ireby, which is a lovely village. However, crossing into Cumbria and gaining further height on Great Coum and Cragg Hill, with views down to Barbondale and then taking in cave country in the Ease Gill valley is the better walk. Our detour into Cumbria is only 4 miles long and I hope you forgive me. If not please do use the Ireby Fell alternative.
In order to return from the very northern tip of Lancashire on the opposite bank of the Lune and thus avoid the same route and issues I had no alternative but to head back into Cumbria for a second time and cross the Lune at Kirby Lonsdale. The next crossing is back near Hornby, several miles south. However, on this occasion, we only transgress into Cumbria for less than a mile unless you opt to stay in Kirby Lonsdale.
The route south back along the Lune was also problematical. The route from Borwick onwards to Silverdale and Morecambe seemed to take care of itself but how to get to Borwick? Initially my route took in Whittington, Docker and then Capernwray but there is no way through from Cinder Hill to Capernwray Hall so there is a long trek along the relatively quiet road known as Keer Holme Lane and then a busy bending road into Borwick.
So finally I decided to use the Lune Valley Ramble along the banks of the Lune to Arkholme and Gressingham. We then head inland to Over Kellet and then to Capernwary. Over Kellet is a pretty village with a pub and village stores and I think the whole 10 miles or so is very pleasant with some good views.
PRACTICALITIES OF WALKING THE NORTHERN LOOP
In terms of planning this walk there are two decisions to be made.
Decision 1. Most people can complete the first two stages (15 miles) of the walk in a day. But this is then followed two short stages (31 and 32) which are 6 and 4 miles long, and then there is the first of the two big days, Stage 33, which is 19 miles long. Most people, myself included, would not be able to complete all three of these stages in one day (29 miles). To split into two would leave a short day followed by a long day. That in itself may not be an issue as it gives an easy day before the following big days walk. In addition there will be transport to arrange from Abbeystead, which has no accommodation locally. This will also add time to that day. The alternative is to walk to Dolphinholme on your first day, which will add 6.5 miles on to your first day making that about 21 miles. Whilst that too is a long day, two thirds of this has almost no gradients at all! Dolphinhome is also closer to the accommodation options for the night, including the Fleece Inn, which is just 1km away. The following day will then be 22.5 miles, which in is just about manageable.
The other alternative for these initial five stages is to start with a short day, perhaps combined with your travel to Lancaster. You could end the day just outside Glasson – see accommodation options at the end of that Stage – or at some point on the main Lancaster Canal, depending upon your choice of accommodation. This would result in a first day of about 8-12 miles and the second of around 18-13.
Finally it is possible to reduce Stage 33 to around 17.5 miles if you end in Wray rather than continuing on to Hornby.
You can also reduce Stage 33 by a further 2.5 miles, so 15 miles in total, by missing out Wolfhole Crag. A mile on from the second trig point on Ward's Stone you meet the shooting track, which comes up from Tarnbrook to the south (Grid Ref SD 618 582). Rather than continue straight on up the slope to Wolfhole Crag turn left and follow the shooting track down Mellowdale Fell to the Hornby Road. Turn left here and pick up Stage 33 again.
Decision 2. The other conundrum is how to tackle Stage 34 and Stage 35. Stage 34 is just 9 miles, whilst Stage 34 is 17 miles long but has a considerable ascent of 2,637 feet in the day. Again, after Stage 33 you may be glad of a short day before the climb up to Gragareth and beyond. This will also give you time to spend in Kirby Lonsdale, which is the most obvious place to stay at the end of both these stages. Although just in Cumbria, Kirby Lonsdale is a beautiful village with amenities and several accommodation options.
It is possible to reduce Stage 35 by lengthening the previous Stage by walking on from Hipping Hall to near Fellside Barn (GR 656 776), which extends Stage 34 by 2 miles. However, you will need to arrange transport to pick you up from this more remote point.
If you wanted to combine Stages 34 and 35 into a days walk then you could finish at Cowan Bridge reducing the day from 26 to 24 miles or Hoop Hall, which would be 25 miles. My recommendation would be to complete in two days.
If you also finish Stage 33 at Wray then, Stage 34 will be a more reasonable 11.5 miles.
The final seven stages stages are much simpler with a number of options depending upon your pace and daily mileage. They could be completed in two days (Stages 36-38 (16.5 miles) and then Stages 39-42 (23 miles) or more likely three days with a number of combinations or possibly four days if you want a leisurely end to Lancashire Way!
Click here to go straight to Stage 29 – the first of the Northern Loop