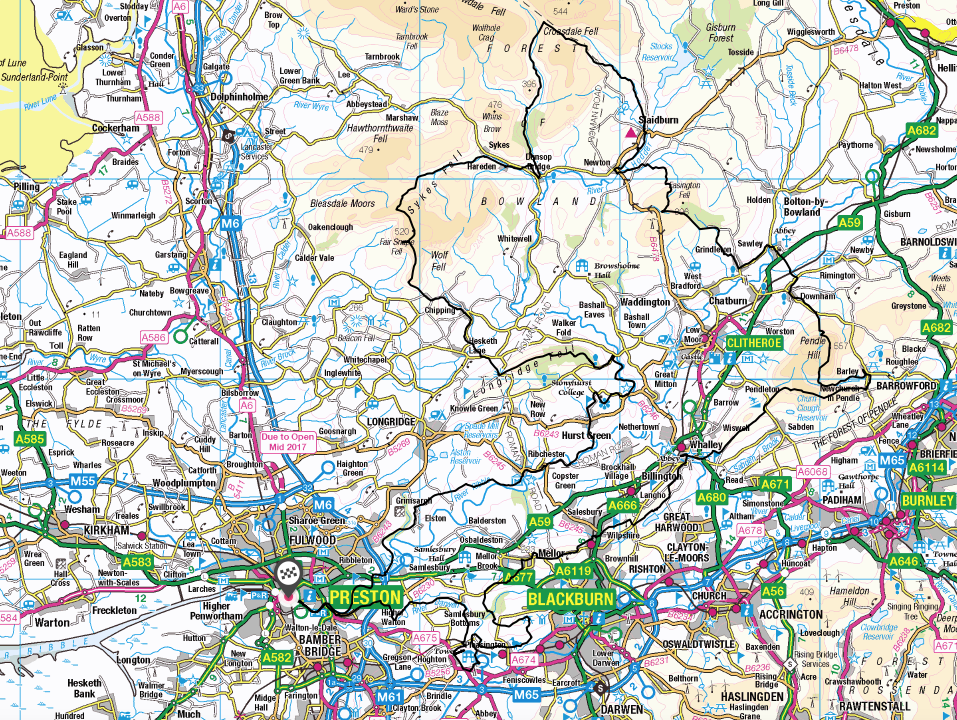 THE CENTRAL LOOP
The Central Loop is the second part of the Lancashire Way. In comparison with the Southern Loop it is longer at 101 miles and ascends over 13,000 feet, which is almost twice that of the Southern Loop. Hence it is very much the bigger brother of the first two loops. It is estimated that it will take on average just over 40 hours walking so can be completed in between 5-7 days and thus one complete week.
It begins and ends in Preston, as did the Southern Loop, which helps with logistics. There are twelve Stages in total, with the longest being just under 12 miles so can be completed in a day for most people. Other stages are shorter so can be combined with adjacent stages according to your pace.
The first four stages make their way from Preston in an easterly direction along the southern side of the Ribble Valley to Pendle Hill. The route then turns north crossing the Ribble and Hodder valleys before turning back west through the southern half of the Bowland Fells. The final three stages meander back to Preston via Longridge Fell along the northern side of the Ribble Valley.
This part of the Lancashire Way is very much more rural with some of the very best scenery that the county has to offer. There are real hills such as Pendle Hill, beautiful villages and magnificent rivers. There is history but it is dominated by the beauty of the landscape. Pendle Hill is the highest point of the Loop at 557m (1,827feet) but this is still technically not a mountain being below 2,000 feet. For that you will have to go to the Northern Loop – see below.
There are two "alternative" Stages incorporated into the Central Loop. One makes the original route easier and shorter ie Alternative Stage 25 and the other makes the original route longer and harder ie Alternative Stage 24. So the original route can be reduced down to 97 miles or increased up to 109miles. If you possibly can please do walk the Alternative Stage 24, it is one of the best on the whole of Lancashire Way.
Click here to go straight to Stage 17 – the first of the Central Loop