THE SOUTHERN LOOP
The Southern Loop is the first part of the Lancashire Way, which covers the Southern half of the county. It begins and ends in Preston and is about 84 miles long. It is the junior part of the walk and quite modest compared with its two brothers to the North and East. It is also less well known than in particular the Central Loop but I am sure that it will give you quite a few surprises. The total climb is just over 7,000 feet in total, about half that of the Central Loop. Indeed six of the Stages barely climb 100 feet above sea level as it makes it way along the Ribble estuary, the West Lancashire Plain and the Douglas Valley. The highest point is Winter Hill at 456m or just under 1,500ft.
The highlight is probably the West Pennine Moors, centred on Rivington, but there are many other great places along the Way. Unlike many walks, including the Central and Northern Loops, it is not entirely rural and does have stretches that take in parts of Lancashire's great industrial heritage. As such it is not always pretty and scenic, but always interesting. How can you walk through Lancashire and not take in the remnants of the great Industrial Revolution, when the region was a powerhouse of the world economy?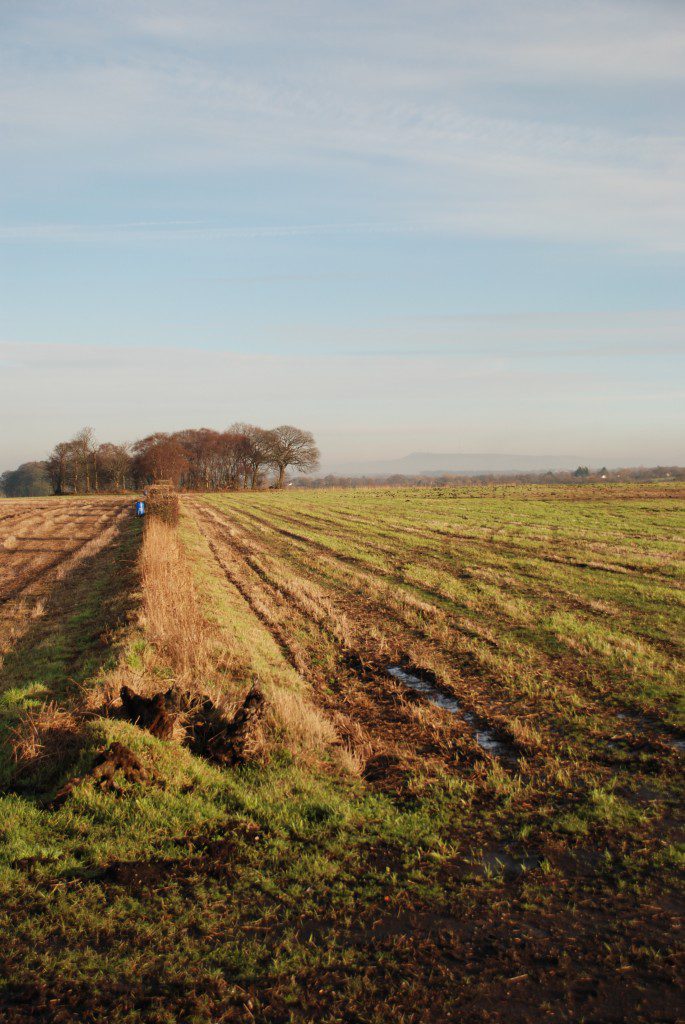 Mawdesley Moss with Winter Hill in the distance
PRACTICALITIES OF COMPLETING THE SOUTHERN LOOP
My suggestion would be to complete in five days as follows
Day 1 – Preston to Croston – Stages 1-4 – 15.5 miles. A nice easy day but good options at the end of the day. Stay at the Rufford Hotel or catch a train back into Preston for the overnight stay or to retrieve your car if not staying overnight.
Day 2 – Croston to Wigan – Stages 5-8 – 19.25 miles. Wigan has various accommodation options. You could finish at Gathurst to reduce the day by 3 miles and catch the train in to Wigan for over night accommodation. If no overnight accommodation is required you can collect your car by using the train from either Gathurst or Wigan back to Croston. There are two options – go via Burscough and change trains or go via Preston and change trains. Alternatively there used to be a bus from Wigan to Croston.
Day 3 – Wigan to White Coppice- Stages 9-11 – 15.3 miles. You will have to take a taxi from White Coppice to Chorley for accommodation or back to Wigan to collect your car. This could also be shortened by not completing Stage 11. This leaves you in south Chorley with accommodation in walking distance or a taxi back to Wigan. If you started in Gathurst then it is either 15.25 miles to the end of Stage 10 or 20 miles to the end of Stage 11. Please bear in mind that there is very little ascent on these Stages so 20 miles is quite feasible.
Day 4 – White Coppice to Abbey Village – Stages 12-14 – 17.1 miles. A hard day. This can be reduced by 4 miles by just completing Stages 13 and 14 and add Stage 12 to the previous day, which is a much easier day. Alternatively only walk Stage 12 and 13. Use a bus or taxi to return to Chorley and stay at the same hotel as Day 3 or collect your car.
Day 5 – Abbey Village to Preston – Stages 15 and 16 – 16.1 miles. Stay overnight in Preston or return home as you arrived. Taxi is probably the best way to return to Abbey Village if you need to collect your car although you used to be able to take a bus to Chorley, change and then a bus to Abbey Village.
Click here to go straight to Stage 1 – the first of the Southern Loop